About Our Company
Since inception in 2009, Premchand Jute & Industries Private Limited has been sustaining a strong business positioning in the Indian jute industry with its exclusive jute products and client-centric management principles. Equipped with excellent manpower and world class production machineries, the company aims to lend an innovative edge in the jute manufacturing sector, emerge as a formidable leader in the industry, and revolutionize how the entire jute industry is perceived across various global markets.
The company boasts of a streamlined management model and banks on its forward-looking business approach and its emphasis on "Green Jute and quality products that align with prescribed industry norms. The quality approach of the company can be best described through one of the most famous quotes by Henry Ford - "Quality means doing it right when no one is looking".
Adoption of modern principles, a strict focus on offering value added products and stringent quality control measures are factors that give Premchand Jute & Industries Private Limited its winning niche in the market today. Uncompromising quality and exemplary after sales support has further catapulted the Premchand brand amongst the best, ensuring its continual and exponential business growth.
Over the years, the company has made smart investments on technology and installed sophisticated machinery and equipment across its various business units. Additionally, it has made significant investments on empowering its employees through continuous training and motivational sessions and programmes.
Premchand Jute & Industries Private Limited with its zeal and aggressive marketing pitch continues to explore business avenues and penetrate new & challenging markets, even as it continuously serves to perfection its existing markets and client base. Today, the company's commitment to quality and customer oriented principles have helped it meet dynamic requirements of many customers, worldwide.
History of Growth
Premchand Jute & Industries Private Limited initiated business during the British Raj, and was counted amongst one of the pioneering manufacturers of jute products during the golden years. After multiple ownership transfers, we at Premchand Jute & Industries Private Limited took reign of the company in 2005. Today, as we steer the company, we are reliving its golden days as we are poised as a front runner in the industry, having specialization in offering a wide variety of quality jute products.
With an aim to boost productivity, we have made adequate investments on upgrading machinery and manpower on a regular basis.
We are identified among the very few Indian companies with many aggressive investment strategies in place.
2005: Existing production capacity at 100% capacity utilization was 6,000 MTPA
2008: It embraced modernization and replenished old machines in all departments with latest plant & machinery with a view to scale up the production capacity to 18,000MTPA
2010: The production capacity was enhanced to 27,000 MTPA
2013-14: Another major boost in productivity with the production being further increased to 36,000 MTPA
The company today manufactures Hessian Cloths & Bags, Jute Yarn & Sacking Bags of premium quality in multiple sizes that can be customized to customer specification.
Timely supply of quality-assured products and prompt payments to suppliers makes the company one of the most preferred suppliers in the jute industry.
Facilities
The company does not deter from discharging its social and environmental responsibility, and ensures maintenance of its premises in the most eco-friendly way.
Its world class facility stands on 80 acres of prime land, and has a built up area of 1.6million square feet. The facility is maintained keeping possibilities of future expansion in mind.
The fully integrated plant of the company is located on the banks of the Hoogly and is easilyCore Values accessible from the nearby railheads. It is also well- connected to the NH6 by interlinking, which makes transportation easy and convenient.
Core Values
Our Purpose - To market jute as the most affordable and eco-friendly packaging solution to global consumers
Honesty, Integrity, Transparency & Trust
Commit to excellence and deliver only quality products to clients
Forge and thrive only on mutually beneficial long-term relationships with patrons
Our Members
Girdhari Lal Chirania (Director)
Girdhari Lal Chirania is a B. Com-Honours from Assam, and has more than 10 years of experience in the Jute manufacturing industry (Hessian & Sacking). Since the age of 15, he has been associating with the jute industry. His journey started when he began trading in raw jute from different mukam, which gave him excellent know-how of all types of raw jute available. Today, he is known as a purchase baron of the industry with a proven track record for timely supplies.
His keen business sense and know-how on various facets of labor relations and production has helped the company foster and maintain cordial relations between labour and management. Today, his leadership skills fuels the business and aids the mill to run smoothly and provide a congenial working environment for the labors, employees, managers, vendors, customers and clients. Girdhari Lal Chirania is also an accredited committee member of IJMA.
Vishnu Kumar Churiwal (Director)
Vishnu Churiwal is a science graduate from the prestigious St. Xavier's College, Kolkata. He took over the reins of PJIPL in the year 2007. His rich experience spanning almost 30 years in the Jute industry has immensely contributed towards the extraordinary growth of the company. He heads the Banking and Sales of the company, continually introducing novel ideas in various financial aspects.
Swati Dokania (Director)
Swati Dokania is an MBA (Finance) from Symbiosis University (SCMHRD), and has almost 4 years of industry experience (finance and investment banking) under her belt. She has worked with many renowned global companies like JPMorgan and Euram Bank in India, Hong Kong and Dubai. She has been an integral part of this family business at PJIPL in Kolkata, since a year. Currently, she steers costing, and is managing growth of the export profile of the company.


Click to Zoom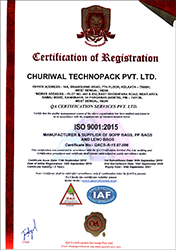 Read More